Key protection cover
Shape your cover
Forever losing your keys? Protect them if they're lost, stolen, accidentally damaged or broken in any lock denying you access to your property. Our Key protection cover replaces locks or keys up to £1,500.
Stranded because your vehicle keys have been lost or stolen? We'll help by reimbursing the costs of car hire up to £75 per day for a maximum of 3 days. As an alternative, public transport or taxi fares may be reimbursed.
What's included
24-hour assistance, 365 days a year
Cover for Home, Car, office, garage, gate and outbuilding keys


What's not covered?
Any claim for damage to locks by wear and tear, mechanical or electrical breakdown, cleaning, repairing, restoring or anything which happens gradually.
Any claim for damage to locks alone where there is no associated damage to the keys.
We will only provide a replacement key and one duplicate key for each key covered under a valid claim.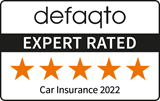 Come on board
Get your quick and easy car insurance quote today.
View our policy document
Take a look at the policy section that relates to the comprehensive cover you are interested in.
Frequently asked questions
Key protection cover, also known as key care cover, is insurance aimed at helping you cover the costs of a lost, stolen or broken key, as well as lock replacement. Although some car insurance policies include a level of key protection, it is often available as an insurance add-on which offers a broader level of cover.
When included as standard in your car insurance policy, key protection cover, which is sometimes referred to as key insurance, will often cover the replacement of:
Locks that can be opened by the missing key.
Keys, lock transmitter, entry card and central locking system.
The car's ignition and steering lock.


The key protection cover that is included as standard in your car insurance policy comes with exclusions and conditions, only covers you up to certain amount and means you need to pay an excess when you make a claim, unlike the cover you receive with a key protection optional extra. Always read your policy documents carefully to make sure you know exactly what you're covered for.
When you buy key protection cover as an optional extra, your level of cover will often include:
24-hour assistance.
A higher pay-out amount in the event of a claim.
Cover for home, car, office, garage, gate and outbuilding keys and locks.
Accidental damage to keys.
Reimbursement of public transport or taxi fares if you can't get in your car, provided this has been agreed with your insurer.
A hire car if you can't get in your vehicle for up to £75 per day.
Key protection cover will usually not include:
Damage to locks due to wear and tear, cleaning or electrical breakdown.
Keys, lock transmitters or entry cards that have been left in a car at the time of the loss or that have been taken without permission by a member of the household.
Damage to locks where the keys haven't been damaged.
Your no claims discount will usually not be affected if the only claims made under your car or home insurance policy are for the replacement of locks and keys. However, this may vary depending on your provider, so you should always read your policy documents carefully.
Some car insurance policies offer key and lock replacement cover in the event of lost or stolen keys. This will depend on your insurer and the type of policy you purchase and the level of cover offered is also likely to vary.
Most insurers will give you the option to add key protection cover to your policy for an additional cost.
If you lose your keys and have key protection cover in place, you should get in touch with your insurer. They should be able to help you.
If you don't have key protection cover or you don't want to claim on your insurance, you can contact a locksmith and support the replacement costs yourself. In some instances, car keys or entry cards can only be replaced by the vehicle's manufacturer, which could be quite expensive.