Replacement vehicle cover
Shape your cover
Have you got a backup plan if your car was written off or stolen and unrecovered? Our replacement vehicle optional extra gives you a hire car for up to 14 days, so if the worst happens, you can get back on the road, quick smart and carry on as normal.
What's included
A hire car up to 1,600cc.
A hire car for up to 14 days following theft, fire vandalism, an act of malicious damage, or if your car is a total loss or has been immobilised following a road traffic accident that was your fault.


What's not covered?
Any claim reported to us more than 14 days after the incident which caused your insured vehicle to be written off or immobilised.
Any claim for a replacement car where the insurer does not accept a claim for your insured vehicle
Any claim where your vehicle was lost or damaged as a direct or indirect result of a flood.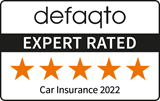 Come on board
Get your quick and easy car insurance quote today.
View our policy document
Take a look at the policy section that relates to the comprehensive cover you are interested in.
Frequently asked questions
Replacement vehicle cover, which is sometimes referred to as replacement vehicle insurance, offers you the possibility of getting a hire car for a set period of time that's determined by your insurer if your vehicle is being repaired, written off or stolen and unrecovered after an accident. It can be offered as an add-on to your car insurance policy or as a separate insurance policy.
It's worth noting that replacement vehicle cover is usually separate to the courtesy car cover offered as standard in most comprehensive car insurance policies. Courtesy car cover is usually offered while the vehicle is being repaired by the insurer's approved repairer, while replacement vehicle cover is often optional, provided at an extra cost, and also covers vehicles that are written off or stolen and unrecovered.
The length of time you can have a replacement vehicle for if your car is written off, stolen or immobilised following an accident that wasn't your fault will depend on the terms set out by your insurer. You should always read your policy documents carefully before you take out your cover. Some insurers, such as Ageas, offer a replacement vehicle for up to 14 days.