Breakdown cover
Shape your cover
Get the reassurance you need when you're on the road with our breakdown cover. The last thing you need is to be stranded, so we've got your back if you get stuck. Plus, you can take your pick from four levels of cover to suit your budget. Whichever policy you go for, you'll have peace of mind that our network of breakdown specialists are there for you 24/7.

Features
Roadside
Roadside Plus
Full UK
Recovery
Full UK &
European Recovery
24/7 roadside assistance
Local vehicle recovery
Onward transport
UK vehicle recovery
Home assistance
Roadside assistance in Europe
From:
£32.00
£44.99
£74.00
£99.00
What's not covered
The cost of any replacement parts or materials
Breakdowns caused by failure to maintain the vehicle in a roadworthy condition
Costs incurred in addition to a standard callout when dealing with a puncture or wheel change where service cannot be effected because your vehicle is not carrying a serviceable spare wheel, aerosol repair kit and appropriate jack.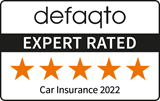 Come on board
Get your quick and easy car insurance quote today.
View our policy document
Take a look at the policy section that relates to the comprehensive cover you are interested in.
Frequently asked questions
Breakdown cover is insurance that provides you with roadside assistance and vehicle recovery if your car breaks down. It can usually be added to your car insurance policy as optional cover for an additional cost, although some insurers also offer it as a separate insurance policy.
Breakdown cover varies depending on your insurer and the specific product you purchase, as most providers offer different levels of cover at different costs. As a minimum, breakdown insurance will include 24/7 roadside assistance and local vehicle recovery. Breakdown cover may also include:
Onward transport
National vehicle recovery
Home assistance
Roadside assistance in Europe
The most common types of breakdown cover are vehicle cover and personal cover.
Vehicle cover means your car is covered in the event of a breakdown, regardless of who's driving it – provided they are insured to do so. Some providers offer the option to cover several vehicles on the same policy.
Personal cover means that you can be covered individually as a driver or a passenger, regardless of the vehicle. Some insurers will allow you to cover several members of a household under the same breakdown cover policy.
Within each type of cover, you are also likely to be offered different levels of breakdown insurance, with wider benefits being offered for the ones with the higher cost.
If your car breaks down unexpectedly and you have breakdown cover in place, your provider should be able to send assistance straight away.
If you don't have breakdown cover, there are a few providers who offer instant cover or emergency roadside assistance even if you aren't a customer. It's worth bearing in mind that the costs and levels of cover offered on instant breakdown cover will depend from one provider to another, whereas having a breakdown cover policy in place means you will already be aware of the cover you have and will have already paid for it.
If you don't have breakdown cover and your car breaks down you have a few options. You can either contact a garage to recover your vehicle for a cost or the highways agency if your vehicle breaks down on the motorway. Alternatively, you can get instant breakdown cover by contacting a provider who offers immediate cover. It's worth noting that these options are likely to be much more costly than setting up breakdown cover in advance.
Breakdown cover is not mandatory, so it's up to you to decide if you want to set it up, either as an add-on to your car insurance policy or as a separate policy. However, having breakdown cover in place can give you a lot of peace of mind, as it will ensure you can receive the assistance you need quickly if your car breaks down without having to pay for it on the spot.