Travel insurance

GET READY FOR YOUR NEXT ADVENTURE, We include Cover for Covid as standard
Flexible cover options:
Whether you're taking a break abroad or enjoying a staycation, we have a policy for you.
Single trip - get comprehensive travel cover for your one-off getaways.
Annual multi-trip - take several trips within a year and we can cover you for up to 62 days per trip.
Find out more about our travel cover options.

Save time with your online account
It's the quick and easy way to manage your insurance 24/7.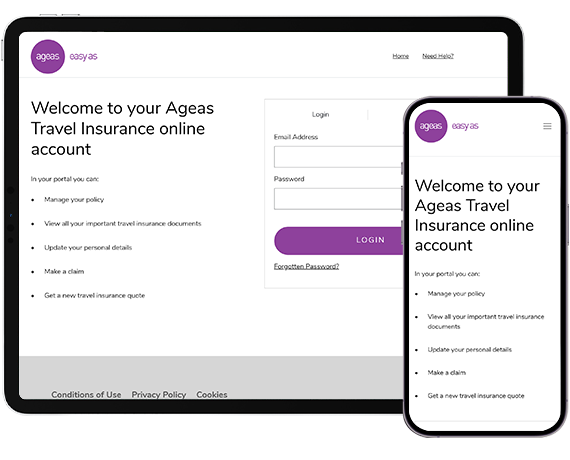 It's quick and easy online
MANAGE YOUR ACCOUNT 24/7


Update your personal details
Renew your policy
Make a claim
View and download your documents
Choose from 3 levels of cover
Simply choose from our three levels of cover to get the protection you need when you're travelling. We offer:
Ageas Silver Travel Insurance
Ageas Gold Travel Insurance
Ageas Platinum Travel Insurance
What if I have a pre-existing medical condition?
We are happy to quote for most medical conditions, but if you have a condition that means you pay significantly more for your insurance, it could be worth speaking to a specialist provider to compare quotes.
Visit the MoneyHelper Directory of Specialist Insurance Providers or call 0800 138 7777 for more information.
View our policy wording
Make sure you read our policy wording
Our travel insurance optional extras
Winter sports cover
Add this for winter sports equipment cover and more.
Find out more
Cruise cover
Select our cruise cover to help with 'Missed Ports' and more.
Find out more
Golf cover
Select this add-on to cover your golf equipment, green fees and more.
Find out more
Gadget cover
Add this optional extended cover for your gadgets.
Find out more
Car hire excess waiver
Select our optional car hire excess waiver, for up to £2,000 cover.
Find out more
Excess waiver
This optional add on will reduce your excess to £0 on all of your travel claims.
We cover more than your travel
Frequently asked questions
This will depend on what you want to be covered for. You may wish to consider how much your holiday has cost you and whether you have any pre-existing medical conditions that you could need to declare.

We offer a variety of products to help you pick the right one according to your holiday plans and needs.
Our Single Trip policy provides cover for ages up to 100 years old no matter where you are travelling. For Annual Multi-Trip cover, if your trip destination is within Europe or Worldwide Excluding Mexico, USA, Caribbean and Canada you must be aged 80 or under at the start of the policy period. For Worldwide including Mexico, USA, Caribbean and Canada policies, you must be aged 75 or under.

If you purchased your insurance through a comparison site such as Moneysupermarket.com or Compare the Market and have purchased a Single Trip policy and your trip destination is within Europe or Worldwide Excluding Mexico, USA and Canada you must be aged 85 or under. For Worldwide including Mexico, USA, Caribbean and Canada policies, you must be aged 75 or under.

For our Annual Multi-Trip cover, if your trip destination is within Europe or Worldwide Excluding Mexico, USA, Caribbean and Canada you must be aged 75 or under. For Worldwide including Mexico, USA, Caribbean and Canada policies, you must be aged 70 or under.

Children under the age of 18 must be accompanied by an adult over the age of 18 named on the insurance policy for the duration of the trip.
For Single Trip policies, the maximum trip durations are:

Age 65 and under - 365 days / Age 66 to 75 – 62 days / Age 76+ – 31 days

For Annual Multi-Trip policies, the maximum trip durations are:
Age 65 and under – 62 days/Age 66-75 – 45 days/Age 76-80 years + - 31 days.
No, only residents in the UK, who are registered with a GP can purchase travel insurance from ageas. You must purchase travel insurance before leaving the UK. If you purchase a policy after your trip has commenced there will be no cover and the policy may be void.
We do not cover anyone, at any time, who is a resident of the Channel Islands and Isle of Man.
The benefits, limits and excesses within your policy are per person, per incident, limited to two excess amounts if more than one insured person is claiming, per trip. Therefore, if you have a Family or Group policy, the limits and excesses will be for each of you individually.
Where a claim is made for the same incident only one excess will apply per trip, per insured person (max 2). An incident is one single scenario where more than one claim is made under different sections.
You are covered for medical claims due to COVID-19 while you're away, as long as you're not travelling against the advice of the Foreign, Commonwealth & Development Office (FCDO) or the equivalent government body in another country.
You will be covered if you have to cancel your trip because you, your travelling companion or close relative has fallen ill with COVID-19.

You'll need to provide evidence to substantiate your claim such as, but not limited to, a medical certificate or an official test result.
Yes, if you or a travelling companion are required to self-isolate, due to a positive test result/confirmation from a GP, you will be covered to cancel your trip.Subject to the cancellation not being within the first 48 hours of the policy purchase.
Please note: Your policy will not cover cancellation if you do not want to quarantine or self-isolate when you return to your home area.
Please contact us on 0345 165 5762 should your medical conditions change so that we can note this on your policy.
If you are only planning to travel once in a year, then a Single Trip policy could be more appropriate for you. However, if you are planning to go on holiday more than once in a year then an Annual Multi-Trip policy could be more cost effective and save you having to take out a new policy each time you travel.

You should ensure that each of the holidays you are planning will be covered by the policy you have selected.
Yes, our Single Trip and Annual Multi-Trip policies cover holidays in the UK. You are covered for any trip not exceeding the maximum trip length as confirmed in your policy schedule, where you have pre-booked at least two nights' accommodation or pre-booked transport at least 50 miles from your home.

Travel delay is not covered for any trips within the UK (except for trips to the Channel Islands)
Provided you have not already left the UK, an ageas Travel Insurance policy will provide you with cover as soon as your purchase has been confirmed.
Yes, Single trip policies do cover you to travel to multiple destinations. Please add all the countries you are travelling to when taking out a quote. The region of travel is noted on the policy schedule. Please see policy wording for Geographical regions.
You can purchase a Single Trip policy up to 12 months in advance and an Annual Multi-Trip policy 30 days in advance. However, you may want to think about purchasing your policy as soon after you book as possible to cover you for cancellation
You should always check the FDCO travel advice's entry requirements of your intended destination before travelling. If the FCDO travel advice changes due to a pandemic you would not be covered to cancel your trip. Instead, please speak with your travel agent or tour operator to seek rearrangement or refund. If the FCDO travel advice changes due to a reason other than a pandemic you may have cover to cancel your trip if your costs are not recoverable elsewhere.
The UK GHIC card (that replaced the UK EHIC card post Brexit) enables you to access medically necessary state provided healthcare in the European Union (EU) and Switzerland at a reduced cost. If you have an UK EHIC card this will continue to be valid until it expires.

Neither the UK GHIC or UK EHIC covers you for repatriation back to the UK, so it is recommended that you ensure you have sufficient insurance. Travel insurance also offers other benefits not covered by the UK GHIC.

You can use a UK passport to get medically necessary healthcare in Norway. (for example emergency treatment, or to treat a pre-existing condition). Some people can apply for a new UK EHIC that they can continue to use from 1 January 2021 in the EU, Norway, Iceland, Liechtenstein and Switzerland.

Visit Foreign, Commonwealth & Development Office or the NHS to find out exactly what you are covered for and how to apply.
You are covered for bodily injury and illness whilst travelling when pregnant. Please check your transport provider's guidelines before travelling as they may have restrictions.

There is no cover available for medical costs associated with normal pregnancy. This policy is designed to provide cover for unforeseen events, accidents, illnesses and diseases and normal childbirth would not constitute an unforeseen event. Any costs arising from your pregnancy or childbirth, if the expected date of delivery is more than8 weeks (16 weeks for a multiple birth) after the end of the trip, are excluded.
We offer Cruise cover on Single trip and Annual multi trip policies. If you choose to include our cruise cover option, you will see this detailed in your policy schedule.

As cruise holidays cover many different destinations, please ensure you're covered for each country you'll be visiting.
Yes, if you buy our Winter sports cover option. It covers you for medical treatment because of taking part in winter sports activities; damage or loss of skis and skiing equipment, and piste closure. You won't be covered for these as standard. For more information, please see our policy wording.
Maximum age for Winter sports cover is 65.
No, policyholders must be at least 18 years of age and children aged 17 or under are only covered when travelling with an adult covered under the same policy.
From September 2023, our products no longer include Scheduled airline failure cover.

If the flight is ATOL bonded, you may recover your money from them.
If you need to amend any of your personal details, add people to the policy, increase the cover or add extra options such as Winter Sports Cover, you will need to contact us to get an updated policy.

Please call Customer Services on 0345 165 5762 to amend or update your policy.
Your policy wording provides you all of the details you need in order to make a claim. If you have a medical emergency while abroad, contact the Emergency Medical Assistance Team on the telephone numbers below.

Emergency Assistance 24 hours, 7 days a week
Call: 0203 336 7440
The core elements of Ageas Travel Insurance are underwritten by Inter Partner Assistance S.A., which is part of the AXA Group.
Gadget cover is provided by Taurus Insurance Services Limited
Single trip
If you have selected a destination in Europe this will show on the policy schedule as Europe 1, 2, 3 or 4. Europe does not include Egypt, Israel, Morocco or Tunisia.
Europe group 1
Austria, France, Germany, Republic Of Ireland, Switzerland.
Europe group 2
Aland, Albania, Andorra, Baltic Islands, Belgium, Bosnia and Herzegovina, Bulgaria, Channel Islands, Croatia, Czech Republic, Estonia, Finland, Gibraltar, Guernsey, Hungary, Iceland, Jersey, Latvia, Liechtenstein, Lithuania, Luxembourg, Macedonia, Madeira, Monaco, Montenegro, Netherlands, Norway, Poland, Portugal, Romania, Russia West of Urals, San Marino, Serbia, Slovakia, Slovenia, Sweden.
Europe group 3
Corsica, Denmark, Faroe Islands, Italy (including San Marino, Sardinia, Sicily and Vatican City), Sardinia, Sicily, Spain (excluding Balearic Islands and Canary Islands), Svalbard Islands, Vatican City State (Holy See).
Europe group 4
Akrotiri, Algeria, Armenia, Balearic Islands, Belarus, Canary Islands, Corfu, Crete, Cyprus, Fuerteventura, Georgia, Gozo, Gran Canaria, Greece, Greek Islands, Ibiza, Jordan, Jordan River, Kos (Greek Island), Lanzarote, Libya, Libyan Arab Jamahiriya, Mallorca, Malta, Menorca, Minorca, Moldova, Rhodes (Greek Island), Tenerife, Turkey, Ukraine.
Worldwide
If you have selected a destination of Worldwide excluding USA, Canada and the Caribbean this will show on your policy schedule as Worldwide excluding USA, Canada and Caribbean 1, 2, 3 or 4.
Worldwide excluding USA, Canada and Caribbean 1
Argentina, Ascension Islands, Ashmore and Cartier Islands, Azores, Bali, Belize, Bermuda, Bolivia, Brazil, Brunei, Cambodia, Colombia, Dubai, El Salvador, Falkland Islands, French Guiana, Greenland, Guatemala, Guyana, Honduras, Indonesia, Kenya, Kiribati, Korea, Republic Of Kuwait, Lao People's Democratic Republic, Laos, Macau, Marshall Islands, Micronesia, Federated States Of Mongolia, Nauru, Nicaragua, Palau, Panama, Paraguay, Peru, Saudi Arabia, Suriname, Taiwan, Tanzania, Uganda, United Arab Emirates, Uruguay, Venezuela, Vietnam, Yemen.
Worldwide excluding USA, Canada and Caribbean 2
Afghanistan, American Samoa, Angola, Antarctica, Azerbaijan, Bangladesh, Benin, Bhutan, Botswana, Bouvet Island, British Indian Ocean Territory, Burkina Faso, Burma, Burundi, Central African Republic, Chad, Christmas Island, Clipperton Island, Comoros, Cook Islands, Côte d'Ivoire, Djibouti, East Timor, Equatorial Guinea, Eritrea, Ethiopia, Fiji, French Polynesia, French Southern Territories, Gabon, Ghana, Goa, Guam, Guinea, Guinea Bissau, Heard and McDonald Islands, India, Ivory Coast, Kashmir, Kazakhstan, Kyrgyzstan, Leeward Islands, Lesotho, Liberia, Madagascar, Malawi, Malaysia, Mali, Mariana Islands, Mauritania, Mauritius, Mayotte, Midway Island, Mozambique, Myanmar, Namibia, New Caledonia, Niger, Nigeria, Niue, Norfolk Islands, Northern Mariana Islands, Oman, Pakistan, Papua New Guinea, Pitcairn Islands, Reunion Island, Rodriguez Island, Russia East of Urals, Rwanda, Sabah, Saipan, Samoa, Sao Tome & Principe, Sarawak, Senegal, Seychelles, Sierra Leone, Solomon Islands, South Georgia and the South Sandwich Islands, Sri Lanka, St. Helena, Swaziland, Tahiti, Tajikistan, Togo, Tokelau, Tonga, Tristan Da Cunha, Turkmenistan, Tuvalu, Uzbekistan, Vanuatu, Wake Island, Wallis & Futuna, Western Sahara, Western Samoa, Zambia, Zanzibar, Zimbabwe.
Worldwide excluding USA, Canada and Caribbean 3
Chile, Costa Rica, Ecuador, Galapagos Islands, Nepal.
Worldwide excluding USA, Canada and Caribbean 4.
China, Hong Kong, Japan, Mexico, South Africa, Thailand.
If you have selected a destination of Worldwide including USA, Canada and the Caribbean this will show on your policy schedule as Worldwide including USA, Canada and the Caribbean.