What's the difference between an autonomous car, autopilot or assisted driving? How about a self-driving or driverless car?
Drivers' confusion over such terminology is causing them to mis-use the driver support technologies currently available to them.
The Association of British Insurers (ABI) and Thatcham Research, which tests vehicles for safety, warn that manufacturers are failing to make it clear that their cars' assisted driving features are not in fact autonomous systems, and require the driver to keep their hands on the wheel. This is lulling drivers into a false sense of security, says Thatcham Research, which points to growing reports of people crashing as a result.
In one example in the UK, driver Bhavish Patel was banned from driving for 18 months after he was caught on camera sitting in the passenger seat of his Tesla Model S 60, having left his Autopilot system to navigate his through heavy traffic on the M1 in Hertfordshire. A Tesla engineer who gave evidence in court warned that drivers should never depend solely on the system and should always watch the road in front of them and be prepared to act at all times.
Automated vs assisted driving
It is important for drivers to understand the capabilities of existing assisted driving technology. These are systems that help the driver, for example by providing speed and steering support, but require them to remain engaged and responsible for safe driving, with their hands on the wheel.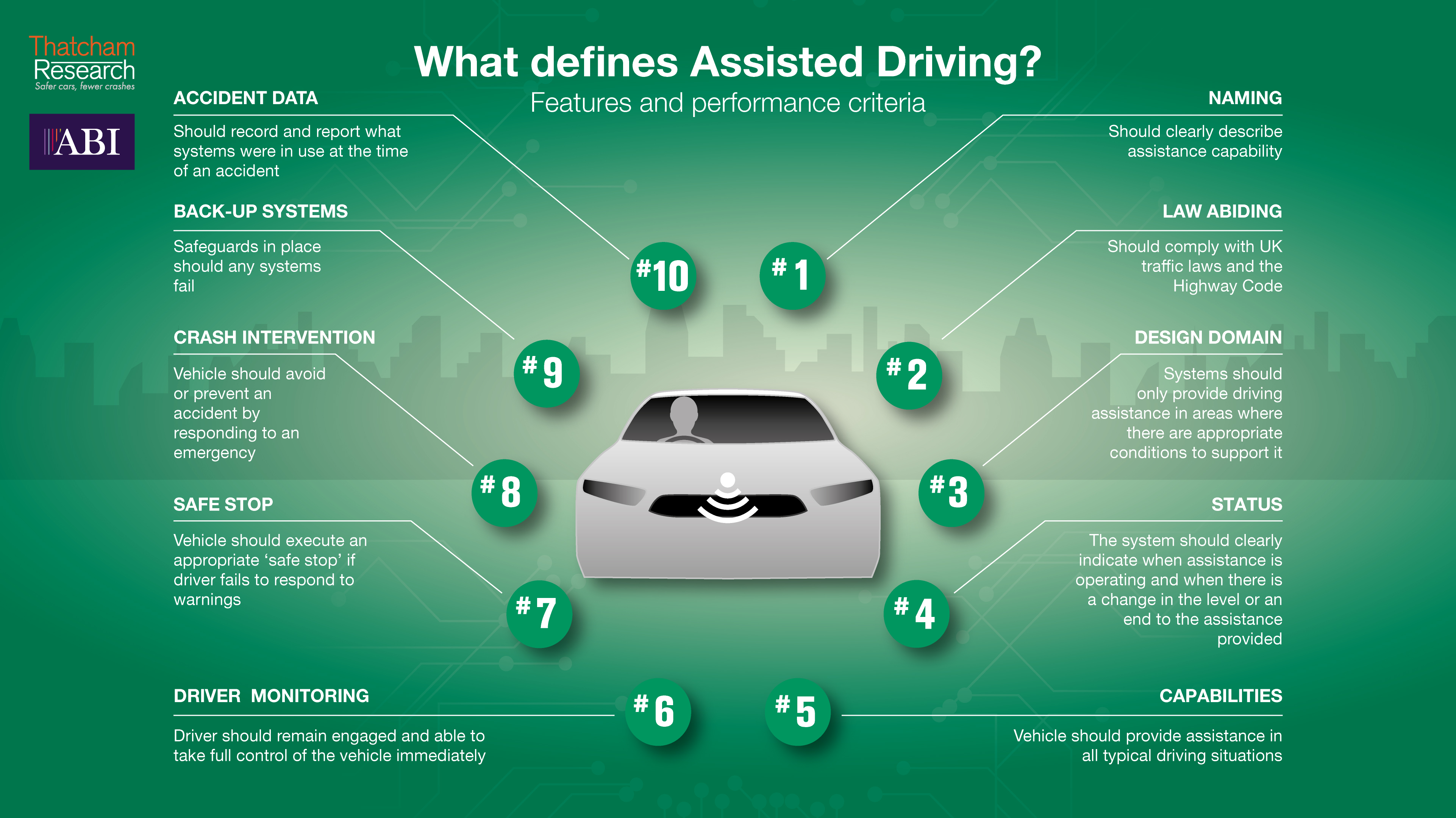 Image courtesy of Thatcham Research
Automated technology, on the other hand, will enable cars to take full control of speed and steering. The user will be able to safely do something else, like checking emails or watching a film - but this technology is still not yet available to drivers.
Tim Marlow, the head of autonomous and connected vehicle research at Ageas, predicts: "A highly automated vehicle, meaning something which you can hand driving over to completely for some of the journey, is likely within the next – two to three years. However, vehicles able to undertake an entire journey virtually anywhere and without manual controls or steering wheels, because the vehicle doesn't need them, are probably still –eight to 10 years away."
"Fully autonomous vehicles proving ride hailing on a commercial basis in restricted areas will appear sooner," he adds.
Misleading names
Part of the problem identified by the ABI and Thatcham are the misleading names given to assisted driving systems by carmakers, such as Autopilot and ProPilot.
Tim gives an example: "It is not unknown for a manufacturer's sales literature to talk about a vehicle being capable of autonomous driving in certain circumstances, but then the drivers' handbook, quite correctly, says it's not an autonomous driving system".


Matthew Avery, director of research at Thatcham Research, says: "Absolute clarity is needed to help drivers understand when and how these technologies are designed to work and that they should always remain engaged in the driving task."
To help tackle the issue, Thatcham Research has announced new tests to assess driver assistance systems. It says it will mark down cars with misleading names and potentially dangerous functionality.
Great potential
Despite the concerns, insurers support the development of autonomous cars because the technology has the potential to result in fewer people being killed and seriously injured.
Tim says: "We absolutely believe the correct use of continuous assistance systems will reduce crashes on UK roads. We are also fully behind developments in automated vehicles, which we think will have an even greater impact on road safety taking even closer to the target of zero deaths on Britain's roads."
To read more about road safety go to Solved.