It just wouldn't be Christmas without getting cosy in front of the TV and sticking on a good Christmas film.
They're heart warming, cheesy and, let's face it, downright predictable. Whether it's a sudden snowfall on Christmas Eve or the satisfying moment the bad guy finally gets some festive spirit, it's easy to spot some familiar scenes in most Christmas movies.
To add some more fun to the tradition, we've created a Christmas movie bingo game you can play with family and friends. Every time you watch a movie, just tick off the classic Christmas film moments when you see them. Flight home cancelled? Tick. The school play? Tick. Keep going until you complete a row of five and then, Bingo!
You could even come up with your own prize for the winner – whether that's a box of chocolates, or a get-out-of-washing-up card for Christmas Day.
Simply click the image below to download the bingo card, which you can share with friends and family, and print as many as you like. Then grab a pen, stickers or even sweets, to cover off the boxes.
Share your favourite festive film moment with us on Facebook and Twitter by tagging @AgeasUK and we'll share our favourites.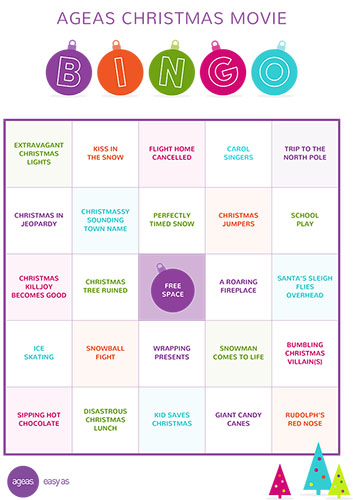 For tips on how to stay happy and safe in your home, go to Solved.