How are you at wrapping presents? While some of us are hopeless, others seem to have a talent for making all their gifts look exquisite.
But faced with an awkward-sized gift to beautify - from a bicycle to a large teddy bear - even the most skilled wrappers can flounder in a muddle of sticky tape and off cuts.
In fact, there are plenty of common yet fiendishly-shaped items you may face at this year's wrapping session, such as pot plants, bottles of wine and bikes.
To help you conquer some of these gift wrap challenges, we spoke to wrapping expert Jane Means - who has advised luxury brands such as Dior, and Harrods and even wrapped a gift for the Queen - for some tips on how to tackle awkwardly-shaped gifts.
1. Try alternatives to wrapping paper
If you have an awkwardly shaped gift to wrap, don't feel you have to use standard wrapping paper. Think about some alternatives that could be better suited for the job.
Jane says: "Awkward shapes are best wrapped with flexible materials such as tissue, crepe paper, cellophane, netting and fabric.
"Tissue and cellophane are easy to work with and both can be purchased from your local florist", she adds.
2. For large items, use a paper tablecloth
If you have a super-sized gift to prepare, then you could try using a paper tablecloth.
Jane says: "These easily mould around large objects like luggage and can easily be purchased from party suppliers and supermarkets".
3. Use fabric
Another handy tip from Jane that will make your unusually shaped gifts look great, while also helping you to be more sustainable: use fabric offcuts.
Jane says: "Fabric remnants are a great way to reuse and recycle. Simply place the item in the centre of the fabric and gather. Tie a knot to secure and you have an eye-catching gift."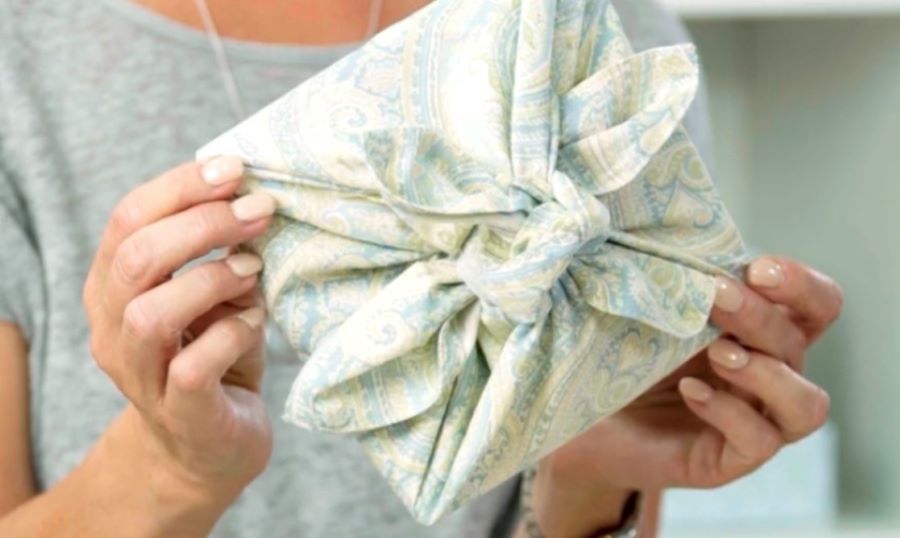 4. Avoid soggy wrapping
Pot plants can be particularly tricky to wrap. As well as their awkward shape, they can also be wet and dirty.
Jane has a solution: "Potted plants are best wrapped with fabric or paper tablecloths as they don't disintegrate when soggy.
She adds: "If you are using paper or tissue ensure that you cover the base with clingfilm or tin foil."
5. Try paper napkins for small gifts
Just as paper tablecloths can work wonders for large gifts with an odd shape, for smaller objects, you could try paper napkins.
Jane says: "Small gifts or favours can be wrapped using paper napkins. Gather round the item and secure it with string or ribbon"
With Jane's simple tips, and particularly her use of alternatives to wrapping paper, you should be able to tackle any gift of any size or shape this Christmas. Happy wrapping!
For tips on how to stay happy and safe in your home, go to Solved.