Fancy the registration plate 'F 1' on your motor? That went for £440K in 2008 and could now be yours for a cool £10m. 'M 1' was bought for £331K in 2006, perhaps by a fan of the 193 mile north-south artery.
While those top-end plates are the preserve of the wealthy, you can pick up a less exclusive one for a few hundred pounds. People are choosing to do so in increasing numbers, with almost 375,000 sold last year by the Driver & Vehicle Licensing Agency (DVLA).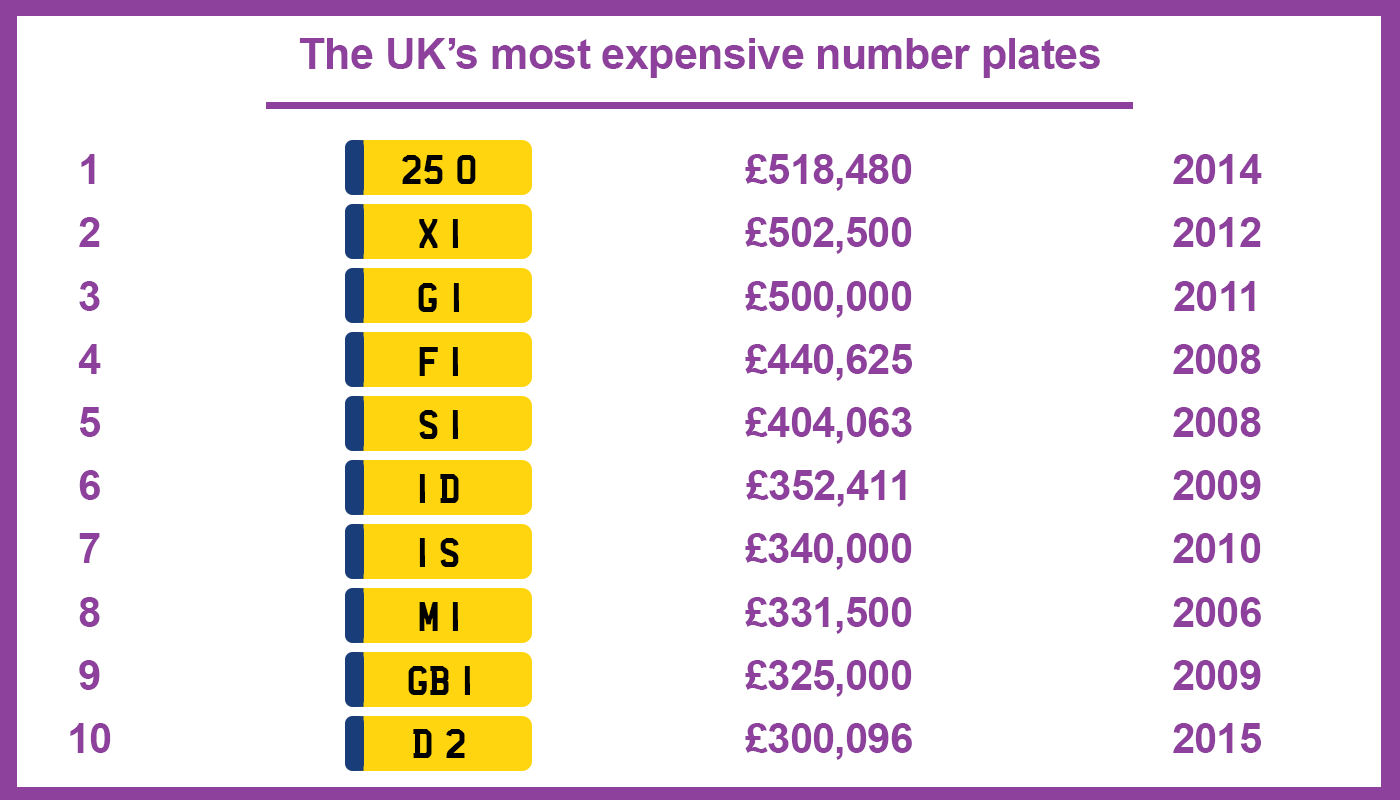 Source: Regtransfers
But it's not just the initial cost of a personalised plate that could dent your bank balance. You may find it affects your insurance cover too.
How to buy a personalised plate
It's simple enough to buy one, either from a private dealer or the DVLA, which holds auctions across the country about six times a year. You can search its dedicated website here to see what plates are available. Once you've found your desired plate, it even mocks up an image of how it would look on your motor of choice.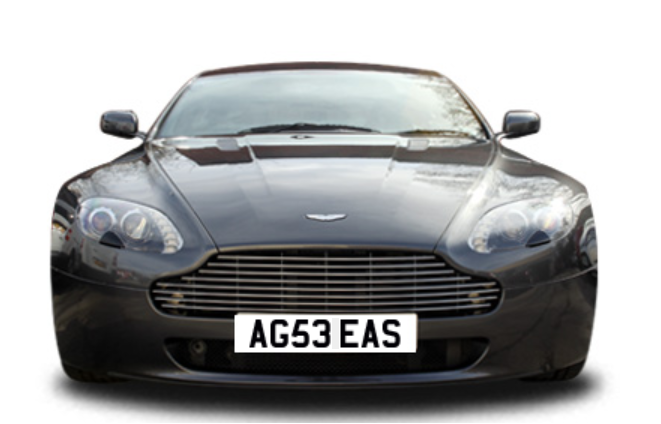 The registration plate AG53 EAS would have cost £250 inclusive of VAT and the DVLA £80 assignment fee at the time of writing.
Once you've paid, you'll get a V750 certificate of entitlement. This is to prove that you have the right to use a private number plate. You then need to assign the plate to your car, which you can do online or by post.
You can keep hold of the original registration number, which will be reassigned to the vehicle when you take off the private number.
The rules
It's illegal to display a registration number other than that shown on the vehicle's log book, or V5C as its known.
Plates must conform to a set of specifications:
be made from a reflective material
display black characters on a white background (front plate)
display black characters on a yellow background (rear plate)
not have a background pattern
If they don't you could fail your MOT, get fined and lose the registration number.
You aren't allowed to display a registration bearing a year code later than the vehicle's date of original registration. For example, if you purchase a 62 current style registration, it can only go onto a vehicle that was first registered as new on or after 1st September 2012.
Check you're covered
Most car insurance providers won't cover personalised number plates, according to 2018 research by GoCompare. In fact, only 19 out of 302 comprehensive car insurance policies studied by the price comparison site covered the loss of a personalised number plate in the event a car was lost or stolen. Some treat personalised number plates as a car modification, although check with your insurer.
Drivers are also being warned that if their car is written off after an accident, then they must act quickly to arrange for their personalised registration number to be transferred to another vehicle or retained on a certificate. Otherwise they could simply lose it alongside the vehicle.
What's more, according to GoCompare, if a car with a personalised plate is stolen and isn't recovered, its owner must wait 12 months to get the number plate back. And to do so, they'll have to prove that the car had a valid MOT and tax at the time of theft.
The important thing is to check your car insurance policy before to see if the costs of your personalised number plate would be included in an insurance payout. And when you register a personalised number plate, inform your insurer immediately, or your policy could be invalidated.