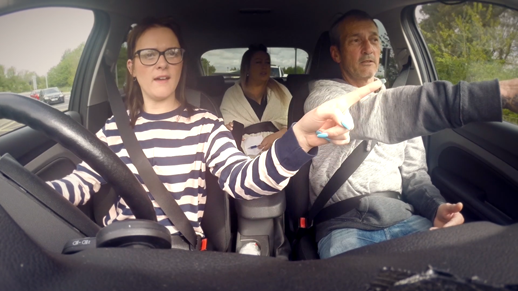 "My biggest weakness is keeping my hands on the wheel," says Jo Middleton, one of three experienced motorists we put to the test, to expose the bad driving habits parents pass on to their learner driver children.
"My mind tends to wander", admits Ali Williams, another of the drivers we filmed sharing their motoring know-how with their offspring. And Nigel Higgins, the third driver we put to the test, adds: "Over 30 years I have amassed a huge amount of bad habits."
Sound familiar? Like our three drivers, your driving may have improved with experience, but you are also likely to have forgotten some of the basics, lost touch with the latest road laws and developed bad habits. Worse still, you may be guilty of passing them onto your kids when they learn to drive or when they're simply watching you from the back seat.
The good and the bad of our three guinea pigs' driving was revealed after we filmed them taking their learner driver children out for a spin on the streets of Cardiff. What they didn't realise was that the person sat in the back of the car with them was qualified driving instructor Nicole Fox, who was scrutinising their driving advice and road savvy, as much as their kids' skills behind the wheel.
Nigel: "I have developed my own style of driving"
Nigel, 48, who runs the DIY Daddy blog, readily admits that he has passed on some bad habits to his daughter Emily, 20. "I hold the gear-stick too much and I spotted Emily doing this on a regular basis. I can also be guilty of not observing all the time, and on one occasion I noticed Emily looking at the houses as she was driving. This is something I do."
Looking back over three decades behind the wheel, he says: "My driving is definitely worse, but also better. It's worse because after 30 years of driving I have developed my own style of driving. This involves habits such as not keeping both hands on the steering wheel all the time. It's better because experience has helped me to spot dangers that may happen before they do."
Nigel's daughter Emily said of his driving: "I think you're driving is good and I feel safe. However, at times your directions were awful, and you didn't look when going over roundabouts. You also had a go at me for holding the gear stick too much, but you did the same."
Jo: "I just go for it"
Jo, 40, mother of 22-year old learner driver Beth and Slummy Single Mummy blogger, says: "I'm pretty good at the observational stuff - checking my blind spot is a bit of an obsession!"
But she admits: "I wouldn't back myself in a theory test to know stopping distances or what all of the signs mean. I'd say my biggest weakness when it comes to driving is keeping my hands on the wheel."
She adds: "I can also be a bit risky with narrow gaps sometimes, where I see something coming the other way and there is an obstruction on my side, but I just go for it!"
Beth says of her mum's driving: "Generally I think my mum's driving is really good, probably the best driving I know. She's really smooth and I never feel sick."
Ali: "My mind tends to wander"
Ali, 42, mother of 17-year-old learner driver Jordi, says: "I'm 75% better at driving than when I first passed my test. My nerves at first made me so hesitant and I hated driving. It's taken me eight years to become confident at motorway driving too."
But the Mum In A Nutshell blogger adds: "On the flip side I'm not as vigilant all the time, my mind tends to wander which I know is not a good thing at all! I also turn the music up too loud when a song comes on which I like, so need to rein that in a little."
Son Jordi says of Ali's driving: "Mum's driving is about average. She's not a Formula One driver so I can't rate her as good, but she's OK and not afraid to push the accelerator".
The instructor's view
After observing Jo, Ali and Nigel in the car with their children, Cardiff-based driving instructor Nicole Fox has this advice for drivers:
1. For learners: Don't focus on passing the test. Learning to drive is not about passing a test, it's about being safe on the roads for life.
2. For new drivers: Don't be over-confident on the roads. Confidence is good but don't go too far the other way as over-confidence can quickly become reckless and that's when accidents happen.
3. For parents of learners: Don't take your kids out on the road for a lesson unless you've checked with their driving instructor it is ok. Trust the experts.
Parents of learners can help their children stay safe on the road – and perhaps end some of their own bad habits – with this checklist.
A modernised driving test
It's helpful for parents to know about changes to the driving test. A revamp at the end of 2017 included new reversing manoeuvres, a requirement to follow directions from a satnav, doubling of the time driving independently to 20 minutes, and a 'show me, tell me' question while driving.
Also, a rule change in June means learners are now allowed to have lessons on 70mph roads if accompanied by an approved instructor and driving a car fitted with dual controls.
After all of that, they may be able to teach a thing or two to their more experienced parents.
To read more about road safety go to Solved.