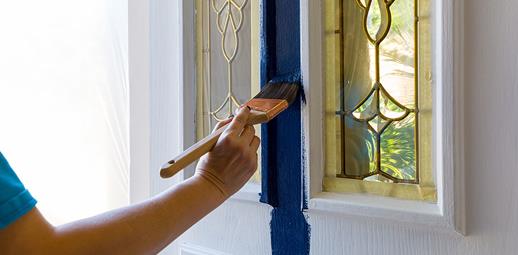 There are plenty of small things you can do around your home that don't require much money or expertise, but can make a big difference.
You can lend a new lease of life to an old piece of furniture, freshen up rooms and generally make your home feel like a nicer place to spend time alone or with your family.
Here are some simple DIY and decorating tips to get you started.
Upcycle old furniture
There's long been a craze for 'upcycling' and with good reason - it's amazing how easy it can be to transform an old, worn piece of furniture into something brighter and more modern-looking.
Often, little more than a sanding-down and a coat of paint is needed, perhaps accompanied by some new handles if you're upcycling a chest of drawers, for example.
Fill your home with plants
One of the easiest ways to inject some colour into your living space is to buy some bright plants and flowers - something seasonal will always be cheapest. Better still if you can get them freshly from your garden and turn them into a centrepiece.
If you want something low maintenance, succulents come in a range of sizes and colours and don't require watering as frequently.
No vases or pots around the house? For a crafty alternative, try tying together milk bottles with string and fill them with your plants and flowers.
Add some colour with Lego
If your kids have a huge box full of Lego – or you've got some stashed away in the loft – then why not use some of it to add a splash of colour in one of your rooms, such as a home office or working space?
The options are endless: you can make Lego coasters, Lego utensil pots, cable holders, tissue boxes, a desk tidy, picture frames… You're only limited by your imagination.
Spruce up your entrance
One of the easiest ways to make your home more inviting is to give the entrance a bit of love. This can be as simple as giving your front door a lick of paint or adding a welcome mat and some potted plants. You could add a new door number too.
Change the walls
Choose a room to paint, or perhaps brighten up one 'feature' wall with a new colour. All you need is paint, brushes and rollers, some masking tape and something to cover the floor. And, if your kids are old enough to help, painting can be a fun activity for the whole family.
You can also get wallpapering. All you need to do is find some fun wallpaper and add it to one wall - you can simply replace it for another design when you get bored with it.
Rearrange your living room
This is probably the quickest way to breathe new life into your home - rearrange the furniture. Even if you're limited by space, switching around lamps, photos or wall hangings can make a difference.
Consider how you can make the room feel larger; there are plenty of tricks to achieve this, such as keeping doorways clear of furniture, adding mirrors, or hanging pictures lower on the wall to give the impression of a taller ceiling.
It could also be time for a bit of decluttering by chucking out - or thinking of ways to reuse - the stuff you don't need.
While you're at it, you could try and create a little nook for yourself - perhaps a corner to read in, using your favourite cosy chair and a lamp.
Frame your photos
Have your favourite pics printed and frame them. Simple as that. If you don't have any frames in your home, there are plenty of ways of creating your own – and your kids would surely love to get involved.
Change cupboard door handles
Give your kitchen a fresh look simply by swapping drawer and cupboard handles. You'll be surprised at how much difference such a small detail can make.
Don't forget your bathroom
Revamping your bathroom could be as simple as buying a new toilet seat. They're cheap and can make your bathroom feel a bit nicer. You may also want to consider installing a new shower head - eco-shower heads that avoid wasting too much water are cheap and easy to fix on.
While you're in there, give your bathtub a good clean and check the sealant around the edges is still watertight. If you see any gaps, replace the sealant to help prevent an expensive water leak.
Pressure wash
Pressure washing your patio or decking can be very satisfying. Watch all of that long-accumulated dirt and grime disappear in seconds. It should help make your outside space less slippery to walk on too.
Get patching up
Scratches on the bathtub? Scuff marks on the floor? It's normal for homes to show signs of wear and tear over the years.
Go around your house and find those little problems that you've just got used to and could repair in a jiffy. Fixing them will be time well spent.
Get crafty
Sit down, as a family if you can, and take on some thrifty craft jobs that could make your rooms feel a bit more homely.
How about making coasters from old CDs? Or turning boxes into baskets? The options are endless - Pinterest is a great source of inspiration.
These simple DIY jobs can be a fun way for you and your family to work together and give your home a fresh new look.
For tips on how to stay happy and safe in your home, go to Solved.