There are an estimated 1 million uninsured drivers on British roads, but what should you do if one of them hits your car?
Start by reading our step-by-step guide:
After you've had an accident, get the name and address of the other driver, as well as their car's registration number, make and model. You'll also need their insurance details - if they're uninsured, they may or may not reveal the truth.


Report the accident to the police, however minor. If the other driver refuses to hand over their insurance details, make a formal complaint.


Contact your insurer and explain what happened as soon as possible. If you have comprehensive cover, you can claim for any repairs.


Inform the Motor Insurers' Bureau (MIB), which helps victims of accidents caused by uninsured drivers, those who can't be traced ('hit and run' drivers) or those driving foreign-registered cars. If you are going to claim for personal injury, you must do so within three years of the accident. You can fill in a claim form online, print one off and post it or ask the MIB to send you a paper copy.


The MIB will investigate, keeping you updated. They may ask for additional information.


You should usually find out whether the MIB will be awarding you compensation within three months, or six weeks for a minor personal injury claim. There could end up being a delay if the MIB is waiting for additional medical or police reports.


It may take some time for the MIB to decide how much compensation you are due, but it may be possible to receive interim payments if the process is taking a long time. This is something you would need to discuss with the MIB.


If the MIB decides not to award you compensation you have the right to appeal.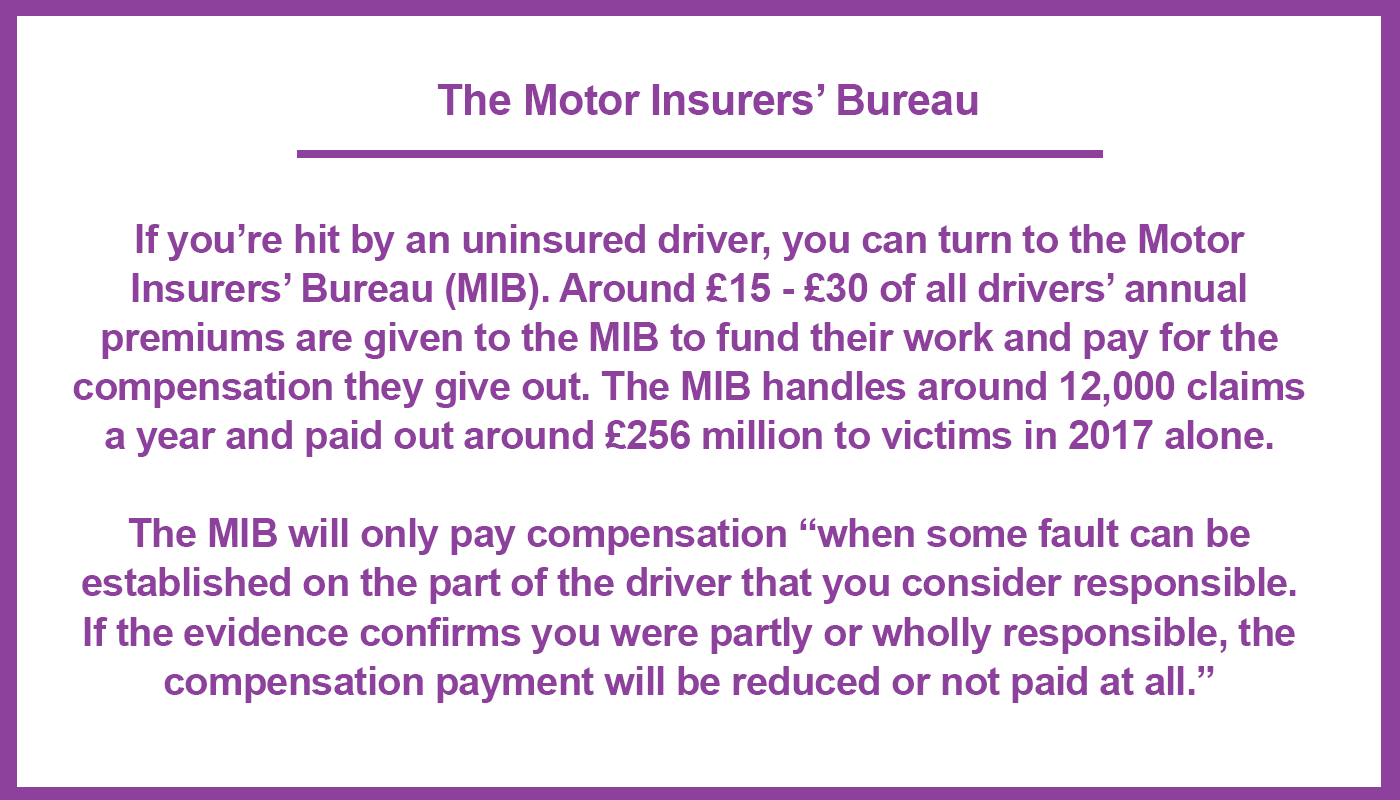 Don't become one of the uninsured
Driving without insurance is illegal, so if your current car insurance policy is due to expire soon, start shopping around for quotes now.
If you're caught driving uninsured you could receive a fixed penalty of £300 and six penalty points. Your car could also be seized and destroyed. If you end up in court, you could be disqualified from driving and receive an unlimited fine.
To read more about how insurance works and your options, go to Solved.