The latest report, from the Road Safety Foundation and Ageas Insurance says that the pandemic has presented a unique chance to re-shape travel patterns and support healthier travel choices, which in turn will cut casualty numbers and help to achieve health, exercise, net-zero carbon and air quality goals.

The annual report always looks at the most dangerous roads which we've taken a closer look at here.

The riskiest roads
To see just how risky the roads near you are, visit our interactive Dangerous Roads Map, created in partnership with the Road Safety Foundation. Using the data from the report, it's a great tool to help you plan your journey, as it shows Britain's riskiest motorways and 'A' roads.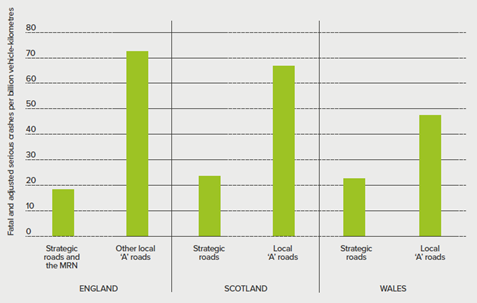 The crash rate on the strategic and major road networks are much lower than on local 'A' roads – the busiest and fastest roads in England, Scotland and Wales are, by design, relatively safe.
Britain's Top 10 most improved roads
The report identifies twenty six roads as the most improved for fatal and serious accidents between 2017-19 when compared to the period 2014-16, we've highlighted the top ten below.
Road

Road Authority/ies
(100% unless stated)

Section of road

Decrease in crashes

A11

Bracknell Forest `
(On the Major
Road Network)
Between the A14 near Newmarket and the A134 north of Thetford
70%
M6
Highways England
(On the Strategic
Road Network)
Between junction 0 with the M1 and junction 4a with the M42 near Birmingham
53%
A167
Gateshead (93%)
Newcastle upon Tyne (7%)
Between the roundabout with
the A1 near Low Eighton and the
junction with the A167(M) and the
A186 in Newcastle Upon Tyne
68%

M40

Highways England
(On the Strategic Road
Network)
Between junction 4 with the
A404 near High Wycombe and
junction 9 with the A34 near
Bicester
51%

A1124

Essex
Between the A12 west of
Colchester and the Box Mill
Plantation near Halstead
78%

A688

Durham
Between the A67 at Barnard
Castle and the A68 at West
Auckland
85%

A5061

Warrington
Between the A49 in Warrington
and the A50
85%

A726

South Lanarkshire
Between the A71 in Strathaven
and the A725 in East Kilbride
78%

A652

Kirklees
(On the Major
Road Network)
Between the A638 in Dewsbury
and the A651 near the M62
69%

A4

Bath and North East
Somerset (86%)
Bristol, City of (14%)
(On the Major
Road Network)
Between the river north-west of
Bath and the A4174 near Bristol
66%

View the Report: Building Back Safer: Making roads fit for 2030
To read more about road safety go to Solved.