If you're planning your driving trips to avoid rural roads... our recent research shows that you're not alone.
Rural roads can be a massive bugbear for many drivers. Having to squeeze past other road users, stopping for passing livestock or travelling at walking speed behind farming vehicles are not typical components to make the perfect journey.
As millions of Brits jump into their cars and head off on staycations in the countryside this summer, we look at just how unnerved many drivers – especially those who live in towns and cities – are by Britain's rural roads.
Rural roads account for more than half of all roads in the country, however a dislike of this type of road is far from uncommon.
In fact, Ageas and RAC research[1] shows three in ten drivers dread journeys on rural roads so much that they're willing to take a detour of 16 miles or 25 minutes to deliberately avoid driving on them, which is enough time to watch an episode of EastEnders.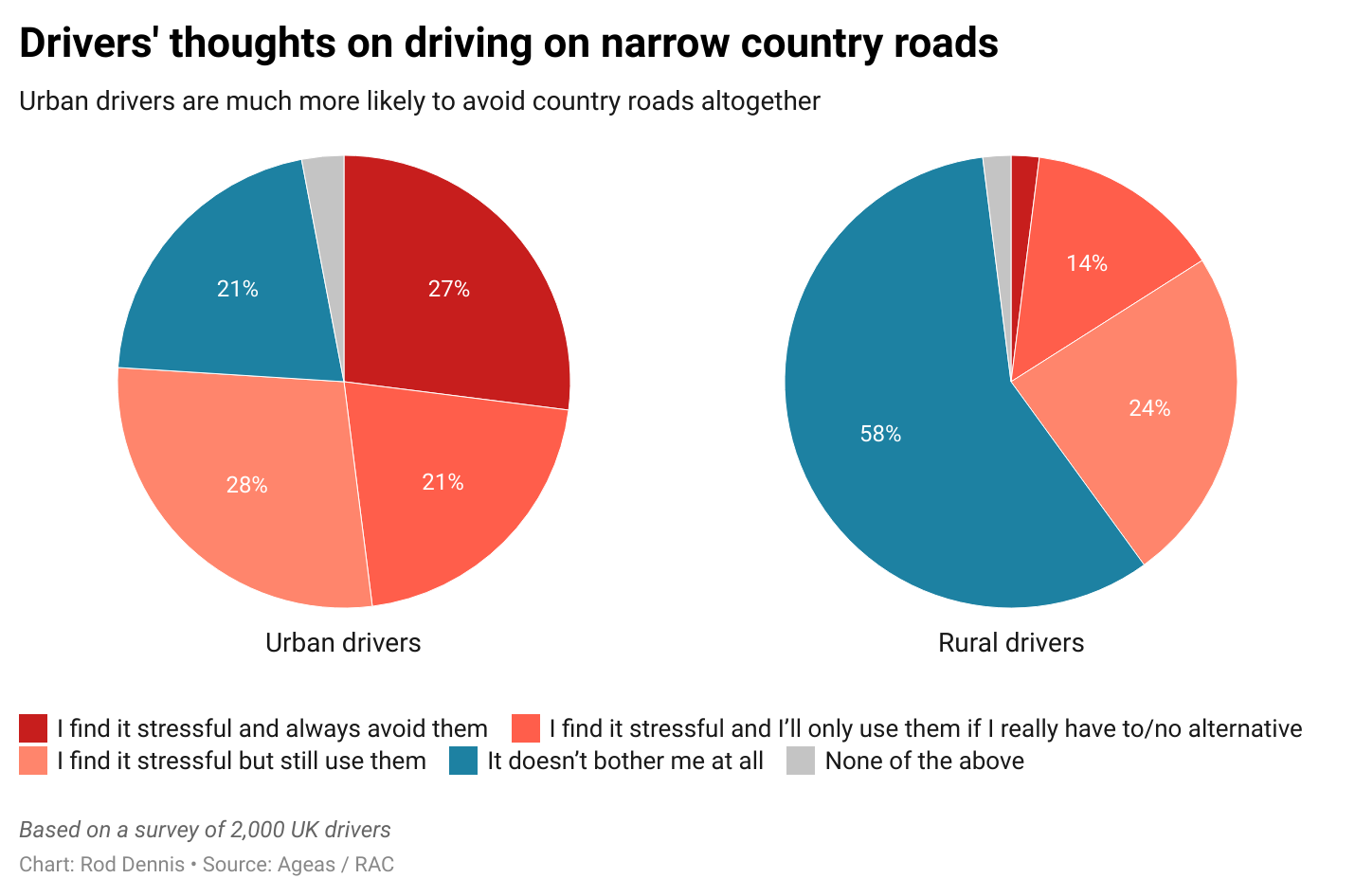 Robin Challand, claims director at Ageas Insurance, said:
"We understand that getting to your holiday destination can be stressful at the best of times. Between packing, long car journeys and hot weather, there's a lot to get flustered about.
"Our research shows the type of roads we drive on can also be a cause of stress, with crashes and scrapes high on the list of people's concerns, so we're urging people to stay calm and – most importantly – stay safe this summer.
"Negotiating narrow rural lanes can be tricky, even for the most seasoned of drivers, but by following some simple tips and staying calm, you can avoid adding a damaged car to your list of things to get stressed about this summer."
How far will drivers go to avoid rural roads?
Where you live can also have an effect on your attitude towards rural roads. Ageas and RAC found drivers who live in cities or urban areas would be willing to add 23 miles or 30 minutes to their journey to avoid them.
What makes rural roads so stressful?
It's no surprise that many drivers find rural roads stressful. Ageas and RAC found more than half (58%) of drivers feel stressed when driving on rural roads. This figure rises to 76% for city-dwellers who may have less experience driving on these types of roads.
Rural roads are known for being notoriously narrow, so unsurprisingly the two biggest causes of stress, while driving on them, are the difficulty of squeezing past other vehicles in tight spaces (62%) and the fear of colliding with another vehicle head on (61%).
But the etiquette of who moves out of the way is also high on drivers' list of concerns about these types of roads. Having to try to reverse back to find a passing place (45%), the fear of meeting a tractor and not being able to pass (44%) and deciding who backs up to a passing place (37%) make up motorists' top five stresses.
Tips for driving on rural roads
The RAC offers three simple tips to help motorists negotiate roads safely so they have a stress-free drive this summer:
Check your route carefully
Sat-navs can sometimes suggest difficult routes, so if you're using one, scrutinise the suggested route before setting off. It's worth checking to see if it's actually easier, or if you'd feel more comfortable, sticking to main roads for as much of the journey as possible instead. Also, be aware of sat-navs recommending diversions down narrow lanes for the sake of making up just a few minutes – it's time that's easily lost if you meet oncoming traffic. Don't be afraid to take the long way round – perhaps an extra 16 miles or 25 minutes is well worth it.
Get in some practice
If you're not used to navigating narrow roads, then try to get some practice in by driving on some that are a bit closer to home, before you set off with the pressure of a family holiday.
Take your time
Allow plenty of time for your journey so you don't have to rush and can go at your own pace. While many country roads might have speed limits of 60mph, that doesn't mean it's the right speed to drive at. In fact, in many cases it's incredibly unsafe so, read the road carefully and consider what forward visibility you have - if it's narrow and winding, lower your speed.
Head to the video below for our top tips for driving on rural roads this summer!

[1] https://www.rac.co.uk/drive/news/motoring-news/three-in-10-drivers-worried-about-narrow-country-lanes/

How to navigate rural roads
We've gathered some useful advice and guides on how to tackle the UK's rural roads, visit our rural roads hub.