If you're about to set off on your UK Staycation road trip, do you know the meaning of some of the more unusual rural road signs?

Try our quiz to test your knowledge - you might be surprised by how many you struggle to identify.
Along with the many pleasures of driving on rural roads, they also have their own dangers, such as poor visibility and road conditions, or the risks of sharing the roads with animals and farm machinery. As a result, you may come across some road signs on country lanes that might not be particularly familiar to you.
After all, driving on rural roads can be a very different experience to taking to the streets in built-up areas.
Here are some of the most common rural road signs to look out for.
Animal warnings
There are lots of signs warning of wild animals or farm animals on countryside roads, such as this one: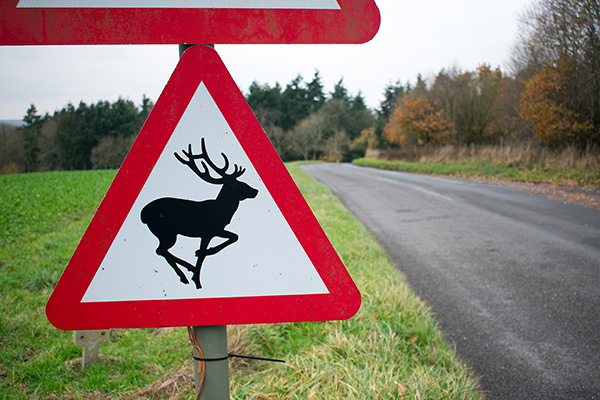 Some are less likely to be seen than others. This one warns of migratory toads – not what you might expect!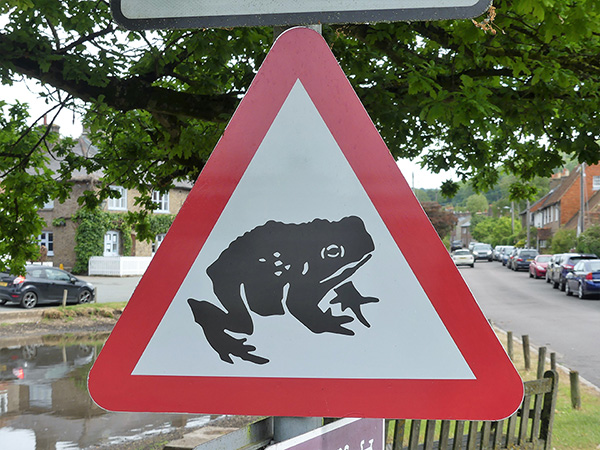 There's a good reason for these particular signs. Common toads often migrate back to the same breeding ponds each year, even if it means crossing a road. Local councils may put up road warning signs to help the toads cross the road in safety [1].
You may come across similar signs for other animals including otters, ducks and hedgehogs.
As well as protecting the animals, these signs provide a serious alert for drivers. Hundreds of people are injured every year in collisions involving animals in the road, according to government figures. Between 2005 and 2017, 100 people were killed, with a further 14,173 injured in accidents where an animal was in the road [2].
See our guide on how to drive safely if there are animals on the road.
Farms and tractors
Of course, when you're driving in the countryside, you're bound to share the rural roads with the local farmer, especially if it's a busy time of year for them, such as harvest.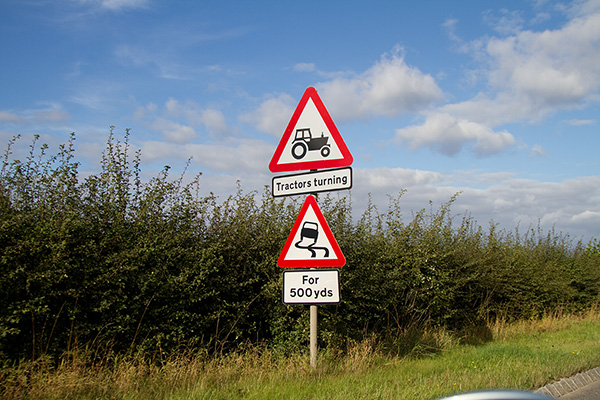 Try not to get too frustrated if there is a tractor driving in front of you. They tend to take short journeys, so you shouldn't have to wait too long. If you do decide to overtake, drop back to increase your ability and to allow the farmer to see you in their mirrors. Make sure you can overtake, and beware too that due to their size, tractors might swing out before turning.
Narrow roads
You're also likely to come across some narrow roads in the countryside, and you may see a sign warning you in advance and alerting you to passing places.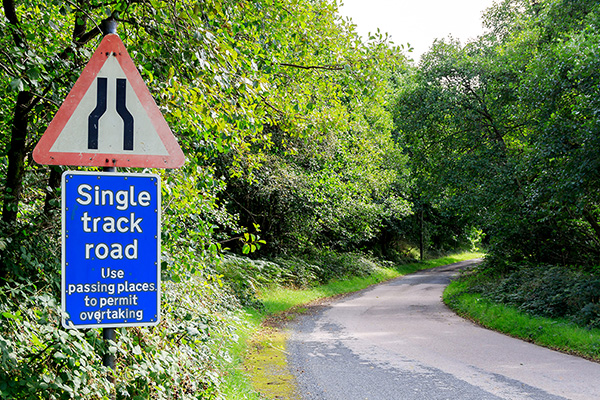 Narrow, countryside roads can take some getting used to. But by being cautious and courteous to other drivers you can negotiate them safely. If you see a vehicle coming towards you, or if the driver behind wants to overtake, The Highway Code says to pull into a passing place on your left or wait opposite a passing place on your right. If necessary, reverse until you reach a passing place to let the other vehicle pass.
It's particularly important on narrow roads to slow down when passing pedestrians, cyclists and horse riders, and to give way to any vehicles coming uphill whenever you can.
Slippery or uneven roads
You may come across signs warning that a road is slippery or uneven. The slippery warning sign shows the silhouette of an out-of-control car. If you see this sign, you should drive with extra care.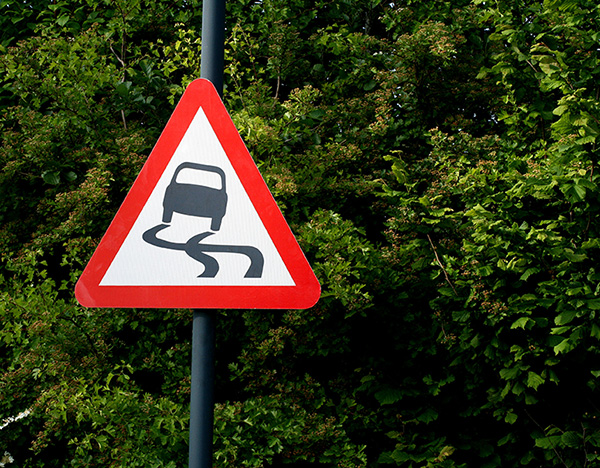 Similarly, caution is needed if you see a sign with two humps on it, which suggests the road will be uneven. Note the difference with a sign with one hump on it, which means there are road humps ahead (of the sleeping-policeman, traffic slowing variety).
There are plenty of other signs that are a little more self explanatory, but require you to show more caution, such as a 'mud on the road sign', which you may come across at farm entrances. The signs warning of flooding risks mean extreme caution is needed, and you may need to find a different route. You're also likely to see signs showing that the road is set to curve sharply, such as the one shown at the top of this article.
It's important to always take extra care when driving in the countryside, especially if you're more used to urban conditions. See our guide how to drive safely on country lanes for more advice.
I hope brushing up on some of these more unusual road signs will help you navigate the rural roads more easily. Make sure you enjoy the tranquillity and beauty of the great British countryside.
Happy, safe travels.
Go to Solved to read more about driving, the rules of the road and road safety.
[1] https://www.froglife.org/what-we-do/toads-on-roads/
[2] https://www.gov.uk/government/news/new-road-sign-to-improve-road-safety-and-protect-animals
How to navigate rural roads
We've gathered some useful advice and guides on how to tackle the UK's rural roads, visit our rural roads hub.