Want to buy insurance?
You can buy your van insurance quickly and easily online - just use the button below to start your quote.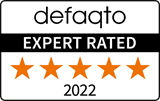 Defaqto 5 Star rated van insurance
It's one of the most comprehensive policies in the market.
To help us get you through to the right person we first need to know how you bought your Ageas van insurance policy.
We sell van insurance directly to customers, but we also sell through intermediaries, partners and brokers.
If you bought your van insurance directly on the Ageas website or through a price comparison site, here's how you can get in touch.
Green Card information
Please visit our dedicated page for information about driving in the EU from 2nd August 2021.
Customers who have bought van insurance underwritten by Ageas through a broker, partner or intermediary must get in touch with who they bought their policy from to make any changes or renew. Unfortunately we are unable to help with this directly.
If you have a question about something else, there are a number of quick and easy ways you can get in touch with us.