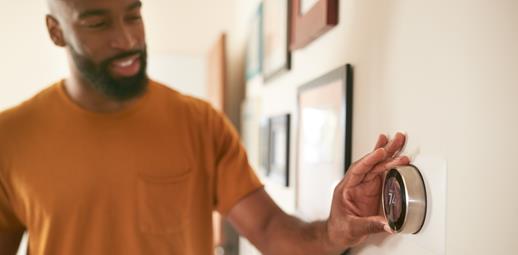 Some people turn the heating on at the first sign of the autumn chill. But others will hold on for as long as they can in an effort to save money on heating and help the environment.
Cue arguments – in households and across social media – about when it's acceptable to turn on the heating for the first time after the summer.
EASY AS HACK
One really simple way to slash your energy bill is to turn down the flow temperature of your combi boiler. This regulates how high water is heated before it circulates to your radiators. The default flow temperature is normally set at around 70°C to 80°C, but reducing this to 60°C or lower could save you up to £112 a year. Try it out with this handy tool from Nesta.
AT A GLANCE
1. The ideal room temperature is between 18°C and 21°C
2. Boiler Switch On Day is the third Monday in October
3. Draught-proofing windows and doors could save you around £50 a year
What month should I start putting the heating on?
There's no definitive answer to this; it depends on the weather and the needs of people in your household.
Some experts suggest turning on the heating once the average outside temperature starts to fall below 15°C, while others say wait until the clocks go back at the end of October. Or you could compromise and turn the heating on for a couple of hours in the mornings and evenings when you first start to notice the chill.
According to Ideal Heating [1], 'Boiler Switch On Day' is recognised as the most popular day for switching on heating systems. It takes place on the third Monday in October. In 2023, that's October 16.
But, really, you'll need to make a judgement call on what works for you and what you can afford.
What is the ideal house temperature?
Resist the temptation to just whack your thermostat all the way up when it gets colder. Try setting it to the lowest comfortable house temperature, which is typically between 18°C and 21°C, as recommended by the World Health Organisation [2].
Did you know that turning the temperature down by just one degree could save you up to £145 a year? according to the Energy Saving Trust [3].
Smarter technology can also help. Some houses have thermostatic radiator valves, which allow you to control the temperature of your individual radiators. That means you can turn down the heat in rooms you aren't using.
Many households also have wireless thermostats, which you can carry around with you to keep the temperature regulated where you need it.
Or you may have smart heating controls that connect to the internet, allowing them to be accessed and adjusted remotely.
7 ways to keep your home warm
Take these simple energy-efficient steps to save money on heating bills and keep your home warm and cosy when the weather turns cold. Some might even help you delay the big boiler switch-on.
1. Give your radiators some TLC
Your radiators require a little bit of care each year. That includes bleeding them to ensure they work as efficiently as possible. You should also make sure your furniture isn't jammed up against your radiators; otherwise it will be absorbing heat rather than letting it circulate the room properly.
Finally, give them a dust as a build-up of grime can prevent the heat from escaping.
2. Insulate pipes
Insulating pipes can be an easy way to reduce heat loss, and you can do it yourself. In a typical three-bedroom semi-detached house, materials will cost around £20, and you'll save around £3 a year on your energy bills [4].
Lagging, the material used for pipe insulation, also reduces the chances of pipes getting too cold and bursting or freezing, if they're external, during the colder months.
3. Service your boiler
Like cars, boilers need to be looked after to help them stay in good condition. Boilers that aren't in the best of health will need to work extra hard to heat your home. An annual service ensures your boiler is running safely and as efficiently as possible. Remember to always use a Gas Safe-registered engineer to carry out the check.
4. Close your curtains
It's easy to overlook the benefits of simply closing your curtains to keep the warmth in and the cold out. In the colder months, close them before it turns dark or while you're out of the house.
Even better, get a pair of thick thermal-lined curtains for your living room as these will give you better insulation than thin, non-lined ones.
5. Layer cold floors with rugs
Hard floors are sleeker and more hygienic than carpets, but they can allow heat to escape from right under your feet. Putting down a warm rug is a way to cover up the gaps and help your toes stay nice and warm on laminate, stone or wooden floorboards.
6. Draught-proof your house
You might spend a fortune on heating only for it all to seep away through the gaps. One way to avoid that happening is to draught-proof windows, doors, floorboards, loft hatches and any other gaps in your home.
The Energy Saving Trust [5] says professional draught proofing could cost around £270 for your whole house, but DIY draught proofing will be cheaper. Draught-proofing windows and doors could save you around £50 a year on heating bills, not to mention make your home feel far more comfortable.
7. Reflect the heat
A final way to save money on heating is to cover a thin sheet of card with tinfoil and place it behind your radiators. It will reflect the heat back into your rooms that would otherwise be lost through the wall – and warm your radiators up faster.
If you're not confident in your handicraft skills, you can buy reflective radiator foil from DIY stores.

GET YOUR HOME INSURANCE TODAY
Protect your home and belongings with home insurance that's Easy As.
[1] https://idealheating.com/blog/boiler-switch-on-day
[2]https://apps.who.int/iris/bitstream/handle/10665/275839/WHO-CED-PHE-18.03-eng.pdf
[3]https://energysavingtrust.org.uk/quick-tips-and-home-improvements-to-help-you-heat-your-home-for-less/
[4] https://energysavingtrust.org.uk/shivering-winter-wonderland-7-top-tips-make-your-home-warmer/
[5]https://energysavingtrust.org.uk/advice/draught-proofing/
Original article written 24th September 2021, updated 18th October 2023