Ageas signs Inclusive Behaviours in Insurance Pledge and becomes a Stonewall Champion
Ageas is proud to announce that it has joined forces with other insurers, industry bodies and brokers, further extending its support for inclusion in the work place. Andy Watson, Ageas UK CEO has signed the Inclusive Behaviours in Insurance CEO Pledge that aims to set the standard from the top to provide a more inclusive working environment. Ageas has also announced it has become a Stonewall Champion, ensuring that LGBTQ employees are accepted without exception in the workplace.
By committing to these initiatives, Ageas is formally undertaking to address all forms of potential discrimination in the workplace, whether on the grounds of age, disability, gender reassignment, marriage/civil partnerships, pregnancy/maternity, family and caring responsibilities, race, religion/belief, gender or sexual orientation.
Ageas has also undertaken to embed the framework of desired behaviours for leaders and their employees in the workplace, as well as in their interactions with suppliers and customers.
The Inclusive Behaviours in Insurance pledge commits CEOs to having clear policies and procedures in place for reporting any inappropriate or discriminatory behaviour in the workplace and to taking action if their employees are not treated with dignity at work.
Ageas's HR Director Lyn Nicholls said The diverse nature of our workforce means that we benefit from a wide range of talent and strength and also reflects the needs of an increasingly diverse customer base. By signing this pledge today we are formally acknowledging our responsibilities to all our employees and proudly acknowledging the inclusive culture and spirit of our organisation where all employees are respected for their differences.
Ilona Smith, Client Account Manager at Stonewall, added: We're excited that Ageas has joined the Diversity Champions Programme. People perform better when they can be themselves and that's what inclusive organisations allow them to do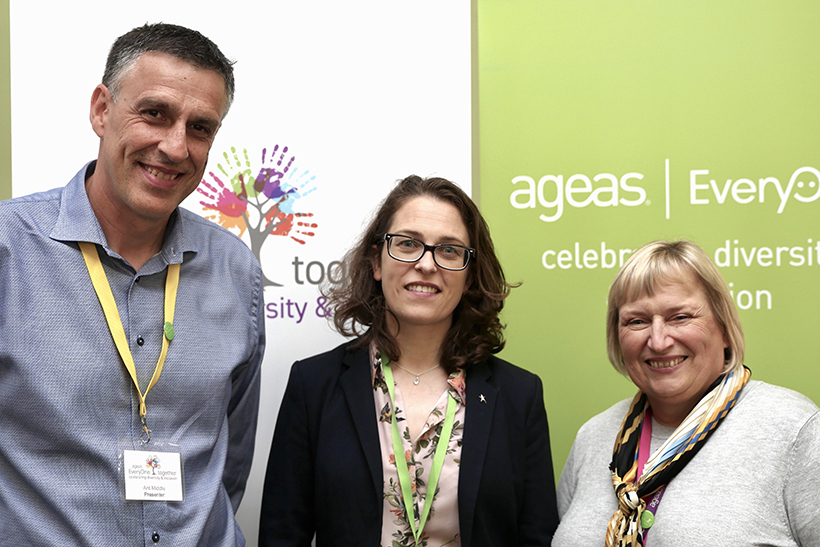 Left to right: Ant Middle, Chief Customer Officer at Ageas UK, Ilona Smith, Client Account Manager at Stonewall, Lyn Nicholls, HR Director at Ageas UK