Executive summary
Profitable performance driven by Motor
Net profit of GBP 19.0 million up 59% from a profit of GBP 12.0 million at 3M 2015.
Combined ratio of 99.0% (3M 2015: 99.7%) reflecting favourable Motor performance.
6% growth in Gross Written Premium (GWP) as motor market hardens
GWP: GBP 444.9 million (3M 2015: GBP 418.4 million).
Well capitalised business
Solvency strength maintained under the new Solvency II regime.
Ageas Insurance rated Standard and Poor's A / Stable outlook and Fitch A+ Strong.
Andy Watson, Chief Executive of Ageas UK commented:
"We've made good progress during the first three months of 2016 and I'm pleased to report GWP and profit are both up compared to this time last year. Much of this performance can be attributed to our Personal Motor book, where positive rating actions ahead of a hardening market have resulted in volume growth. Further increasing our market share, we now insure 3.9 million Personal Motor customers in the UK.
"Continuing our commitment to the broker market, we've had a successful first quarter in terms of new schemes in both Household and Commercial lines, where we've announced new strategic partnerships with Towergate and Arista, and with Darwin Clayton.
"Looking to the partnerships channel, focus remains on driving profitable growth through our existing partners and in particular the development of the proposition with Age UK, having agreed to extend the contract for a further 10 years from 2016. Our direct brands, Rias and Castle Cover, continue to develop new initiatives to compete in challenging household market conditions, but are starting to see volume growth in Motor as a result of increased market pricing."
Business update
As a result of integration within the UK business, from 2016 Ageas is presenting its UK results on a consolidated basis and has realigned some minor products from Other lines into both Motor and Household. The results previously reported separately within Non-Life and Other Insurance segments will now be reported as Non-Life on a combined basis. The 2015 comparative figures have been restated accordingly.
Ageas UK is focused on delivering profitable returns through a clear and consistent multi-distribution strategy with brokers, partners and through its direct brands. The combination of high quality service and low-cost delivery remains a strategic priority for Ageas in the UK.
Ageas covers over 7 million customers across its business in the UK including 3.9 million Personal Motor customers.
Performance
Ageas UK reported a year-on-year increase in net profit to GBP 19.0 million (3M 2015: GBP 12.0 million) as a result of the improved performance of the Motor book in the first quarter. The result also includes Ageas's 50.1% share of the net result of Tesco Underwriting, the Motor and Home insurance partnership with Tesco Bank, which was stable at GBP 1.6 million (3M 2015: GBP 1.5 million).
The consolidated combined ratio for Ageas UK improved to 99.0% (vs. 99.7% 3M 2015), with Motor being the key driver for the positive evolution at 98.7% (3M 2015: 106.4%). The Household combined ratio was 94.9% (3M 2015: 87.4%) reflecting weather related claims in the first quarter compared with benign weather in the first quarter of 2015. The combined ratio of Commercial lines and Special Risks was 106.4% versus 89.9% at 3M 2015 (the Commercial lines ratio, including Commercial Motor, moved to 100.7% versus 81.7% at 3M 2015). This reflects significant prior year releases in 2015 compared to 2016 and the performance of an MGA scheme that will be in run-off from the second quarter of 2016.
The combined ratio of Tesco Underwriting improved to 98.7% (vs. 104.6%), as a result of lower personal injury and accident claims in Motor in the first quarter of 2016.
Inflows
Gross Written Premiums (GWP) including Tesco Underwriting increased to GBP 444.9 million (3M 2015: GBP 418.4 million), reflecting volume growth in Motor where Ageas had applied rate increases ahead of a now hardening market. Tesco Underwriting generated GWP of GBP 95.3 million during the period (3M 2015: GBP 94.8 million).
GWP excluding Tesco Underwriting increased to GBP 349.7 million (3M 2015: GBP 323.7 million).
Within this, Motor (Personal and Commercial motor) GWP increased to GBP 222.6 million (3M 2015: GBP 193.4 million), where Personal Motor policies have increased to 3.9m.
Household GWP was broadly flat at GBP 78.1 million (3M 2015: GBP 79.0 million) where significant price pressure remains. Market indices show that average premiums for a combined Household policy remain unchanged from a year ago, despite severe flooding and an increased rate of Insurance Premium Tax.
Commercial and Special Risks inflows increased to GBP 42.1 million (3M 2015: GBP 40.4 million). In line with the company's strategy to grow its Commercial book distributed through brokers. The first quarter saw two new strategic broker partnerships announced, one with Towergate and Arista as part of a 5 year capacity arrangement, and the other with established broker Darwin Clayton to provide a small business product.
Ageas UK results summary: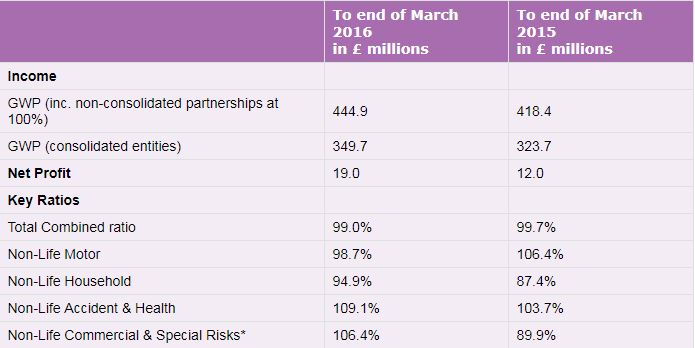 *Commercial lines including Commercial Motor total combined ratio of 100.7% (vs. 81.7% in 2015).