A year on from the St. Jude storm, Ageas has taken its claim handlers back to the classroom at the National Flood School in Surrey. The day's training for front line claims handlers was designed to help the team put themselves in customers' shoes to ensure that if and when flood and Escape of Water (EOW) claims occur this coming Autumn and Winter, the service responds to each customer's individual needs and predicaments. This is all part of the claims ethos at Ageas, the 'Ageas Way' spearheaded by Claims Director Rob Smale.
The National Flood School provides training and demonstrates the effects of flooding to insurers and contractors that work in the industry. The Ageas claims handlers were given both classroom based and practical training in what can happen in a flood or escape of water incident. A model home was used to show the damage that can be caused to furnishings by flood or mains water. The drying out process was demonstrated and considerations around whether to restore or replace furniture and fitted units were discussed.
A key element of the training was to show how fans and dehumidifiers work together to lift and suck water particles from affected furnishings, walls and floors. With the equipment running in a model home the team could really experience first hand the noise of the machines and appreciate why so many customers tend to switch them off at night - delaying the drying process.
The training also underlined the importance of asking the right questions at FNOL (First Notification of Loss). Establishing how many rooms are affected, whether there is space for trucks to park outside the property and whether the size of door and window access allows the drying process to start without delay.
Rob Smale, Claims Director at Ageas said: "We have been making significant process improvements to reduce our claims cycle times over the last few years which was reflected in our response to St. Jude last year. We have continued to make sure our people understand and can manage our customers' individual predicaments in the best possible way, something the training at the National Flood School has helped facilitate. It has enabled the team to appreciate the impact of flooding and the practicalities of drying out properties, putting them in a better position to explain to the customer what will happen throughout the claim."
Chris Netherton of the National Flood School said: "We have dedicated over 25 years to arming individuals across industries with the knowledge and expertise to support victims of flooding and water damage in an engaging and interactive way. The commitment of Ageas and its staff to understanding the impact of flooding and water damage was immediately clear from their approach to our training programme."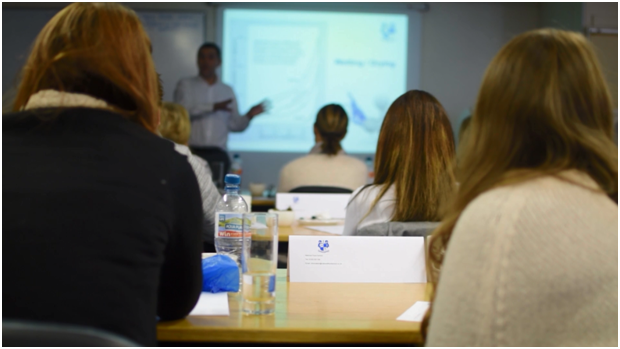 Ageas claims handlers at the National Flood School.
Dryers being used at the model home to demonstrate the process.