Ageas is proud to support the Women in Finance Charter, as part of our commitment to Diversity and Inclusion and the progression of women within Ageas UK.
At Ageas we actively encourage diversity and inclusion to ensure we maintain a culture that allows individuals to thrive and contribute to our organisation, as well as building a workforce which reflects our customers and the communities we are part of. We believe that valuing our people for their individuality creates a culture in which talent, creativity and innovation thrives, bringing out the very best in our people.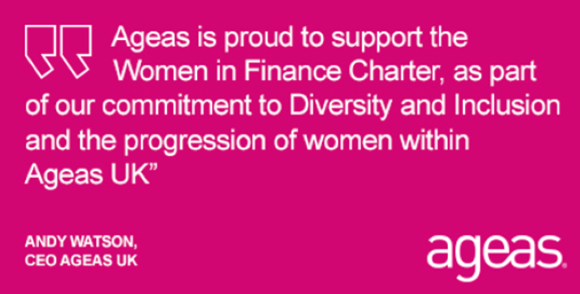 As part of our commitment to diversity and inclusion, we proudly joined around 120 other signatories to the HM Treasury Women in Finance Charter, in March 2017. The Women in Finance Charter is a commitment by HM Treasury and signatory organisations to work together to build a more balanced and fair industry. The Charter reflects both the government's and our aspirations to see gender balance at all levels across financial service firms.
By signing up to the Women in Finance Charter, we are making a pledge to support gender balance across financial services. As a result, we are committed to achieving 35% female representation in our senior management population by 2021.
As part of our commitment, we continue to evolve our Ageas Everyone initiative, to ensure we are an organisation where people can enjoy a varied career, that they are supported and invested in, and where different views are respected and valued, encouraging our people to reach their full potential.
We are excited about the opportunities that this will present for our people.