Ageas is proud to support the Women in Finance Charter, as part of our commitment to diversity and inclusion and the progression of women within Ageas UK.
We actively encourage diversity and inclusion to ensure we maintain a culture that allows individuals to thrive and contribute to our organisation, as well as building a workforce which reflects our customers and the communities we are part of. We believe that valuing our people for their individuality creates a culture in which talent, creativity and innovation thrives.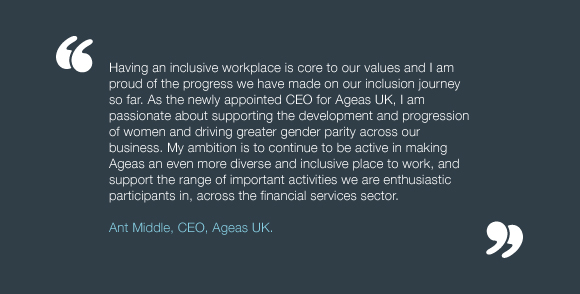 We proudly signed up to the HM Treasury Women in Finance Charter in March 2017. It is a commitment by HM Treasury and signatory organisations to work together to build a more balanced and fair industry. The Charter reflects both the government's and our aspirations to see gender balance at all levels across financial service firms.
By signing up to the Women in Finance Charter, we've made a pledge to support gender balance across financial services. To that end, we are committed to achieving 40% female representation in our senior management population by 2021.
Our 2020 results
We have continued to build a culture of inclusion, where people enjoy a varied career, are supported and invested in, and where different views are respected and valued, encouraging our people to reach their full potential.
In the last 12 months we have made good progress, increasing the number of women in senior roles from 29% to 36%. We've also advanced our other improvement initiatives by:
Placing a greater gender emphasis on our talent pool and succession plan. We've promoted a higher number of women in the last 12 months and a higher proportion of new starters into senior roles were women.
Continuing to ensure a stronger gender balance within our recruitment approach – both from the candidate pool and those taken through to interviews. We're making sure our job adverts use language that's inclusive and accessible
Continuing to promote more flexible working options at all levels and our family-friendly policies that support a healthier balance between home and work
Continuing to improve our Returnships programme, such as providing mentoring support to help women returning from maternity leave, or those employees that have had time out of the business for other reasons
Ensuring greater gender balance on shortlists for senior positions. During the last 12 months, we've promoted a higher proportion of women than in previous years
We are committed to driving forward actions to support this charter.