Ageas is proud to support the Women in Finance Charter, as part of our commitment to diversity and inclusion and the progression of women within Ageas UK.
At Ageas we actively encourage diversity and inclusion to ensure we maintain a culture that allows individuals to thrive and contribute to our organisation, as well as building a workforce which reflects our customers and the communities we are part of. We believe that valuing our people for their individuality creates a culture in which talent, creativity and innovation thrives.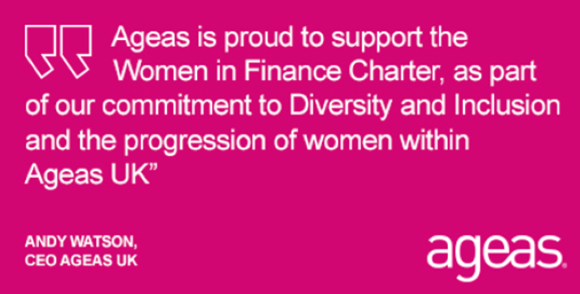 We proudly signed up to the HM Treasury Women in Finance Charter in March 2017. It is a commitment by HM Treasury and signatory organisations to work together to build a more balanced and fair industry. The Charter reflects both the government's and our aspirations to see gender balance at all levels across financial service firms.
By signing up to the Women in Finance Charter, we are making a pledge to support gender balance across financial services. To that end, we are committed to achieving 40% female representation in our senior management population by 2021.
2018 Results for Women in Finance Charter
We have continued to build a culture of inclusion, where people enjoy a varied career, are supported and invested in, and where different views are respected and valued, encouraging our people to reach their full potential.
The total number of female senior managers at Ageas increased from one in five (20%) to nearly one in three (29%) in the last 12 months. In a year, we have progressed nearly half way towards our four-year commitment to achieve 40% representation of women in senior roles.
During a recent panel discussion at the Guildhall in London hosted by HM Treasury, we learned that 87% of signatories to the Women in Finance Charter have met or are on track to meet their targets for female representation in senior management. We applaud our fellow signatories in joining us to make our industry stronger and more diverse.
At the event, we were encouraged to hear that the actions we are taking, are seen as having the greatest impact. These actions include ensuring there are more female candidates on longlists and/or shortlists for senior roles; providing unconscious bias training; promoting flexible working; introducing programmes specifically to support the development and progression of women; and regular career discussions and mentoring.
We are committed to driving forward actions to support this charter.